For some Christians the idea of "God gives wealth"  doesn't go down well with them. They are of the view that money and financial prosperity are "things of this world." Yes, they are indeed things of this world and God is fully aware that for you to live comfortably in this world and fulfill His purpose for your life you need these things too.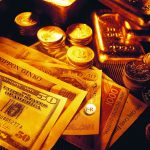 But how you handle prosperity is what counts. Hence this post tries to look at reasons God prospers people and what God expects you to do with His blessings.
First you need to understand that "the earth is the Lord's and the fullness thereof" (Psalms 24:1). Therefore there is nothing like things of this world because God created everything and you must stop giving glory to the devil.
In another scripture God said :
Haggai  2:8 "The silver is mine, and the gold is mine." So as a child of God you are entitled to everything that belongs to your father (God).
No wonder Paul said "All things are yours." (2 Corinthians 3:21).
WHAT GOD EXPECTS YOU TO DO WITH YOUR WEALTH
The scripture says "The blessings of the Lord makes a man to become very rich without having any sorrows attached with it." (Proverbs 10:22). But for you to enjoy these blessings you need to understand why God is blessing you.
Yes you can be very rich but have plenty of sorrow. We have seen people who have a lot of wealth but they don't have peace. This often happens when such people drift from the purpose of their wealth or blessings.
So let's quickly run through some reasons God prospers his people.
1. He wants us to live comfortably
God is aware that you may not be able to live happily here on earth if you are poor and needy. That is not His plan for you. See what the Bible says :
3 John 1:2 "Beloved, I wish above all things that thou mayest prosper and be in health, even as thy soul prospereth."
Here God is saying that just as your spiritual life grows your physical personality has to flourish also.
2. God wants you to sponsor the gospel
We want to announce to you today that if you are very wealthy today yet you have never put a dime into any work of God then your wealth is less useful and you may continue having sorrows though you are rich.
God expects that when He blesses you and you become wealthy you should spend some part of your wealth in sponsoring his work.
There are many ways you can do this. You can give to charity organizations, church projects, missionary work, etc. And until you start doing so you are not living up to expectation.
3. God wants to win souls via your blessings
This may sound funny but it's the truth. One of the reasons God blesses His people is so that He can turn them to the envy of the world.
The wisdom here is when people see that you are prospering in everything you do as a child of God they will normally want to subscribe to these blessings by doing what you do and of course that will be serving God just like you. Let's look at the two scriptures below for better understanding.
Zechariah  1:17 Cry yet, saying, Thus saith the LORD of hosts; My cities through prosperity shall yet be spread abroad; and the LORD shall yet comfort Zion, and shall yet choose Jerusalem.
Zechariah  8:23  Thus saith the LORD of hosts; In those days it shall come to pass, that ten men shall take hold out of all languages of the nations, even shall take hold of the skirt of him that is a Jew, saying, We will go with you: for we have heard that God is with you.
Alright, from the first scripture God is saying that His cities (talking about every true church of Christ) shall overflow with resounding prosperity. But why will God Prosper the church? The second scripture explains it better.
God will prosper His people so that others will run and beg that they want to join them in serving their God because they have seen His blessings upon their lives. Wow! Is somebody excited about this harvest?
4. God wants you to be a blessing to others
Your wealth will have no use if it doesn't extend to others. In Luke 12:16-20 Jesus gave us an interesting parable.
Now, the offense of that rich man was not that he stole those goods or money in his possession, his offense was that he was not willing to share what he has with others rather he preferred to store his wealth for his consumption alone. God had to just take his life.
Also in Genesis 12:2 God promised to bless Abraham on the believe that Abraham will also be a blessing to others.
Finally, it is important for you to know that you cannot enjoy God's financial prosperity and peace if you don't have a genuine relationship with Jesus.