Prayer is very vital in the Christian faith. This is because prayer is one of the major ways we communicate with God. It is important to note that Christianity is a relationship with God through Jesus Christ.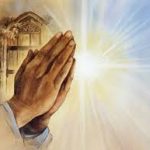 As in the secular realm for example, no relationship can survive without effective communication. So it is important as a Christian to learn how to pray the prayer that works.
Often times, you find people complaining about their prayers not getting answered by God. This is a very wrong statement because God himself promised that if we'll call on HIM, He will answer us. See what the scripture said :
Jeremiah 33:3 'Call unto me, and I will answer thee, and shew thee great and mighty things, which thou knowest not.'
So the big question becomes why some prayers are not 'answered?' And in this post we hope to shed some light on how to pray the right prayer that works. We will take our study from a teaching Jesus gave to His disciples on the subject of prayer.
THE LORD'S PRAYER
Matthew 6:9 (KJV) 'After this manner therefore pray ye: Our Father which art in heaven, Hallowed be thy name. 6:10 Thy kingdom come. Thy will be done in earth, as it is in heaven. 6:11 Give us this day our daily bread. 6:12 And forgive us our debts, as we forgive our debtors. 6:13 And lead us not into temptation, but deliver us from evil: For thine is the kingdom, and the power, and the glory, for ever. Amen.'
The above scripture is just like a prayer template handed down by Jesus Christ. This is not to say those are the only words we should say when praying. Those words are best seen as the right structure of prayers that work.
So how can you pray the right way?
1. Start with thanksgiving :
In the scripture above, we understand that Jesus started His prayer by first of all giving thanks to God. He said 'Hallowed by thy name.' He never started the prayer by making requests from God. Paul puts it thus :
Philippians 4:6 'Be careful for nothing; but in every thing by prayer and supplication WITH THANKSGIVING let your REQUESTS be made known unto God.'
Notice that thanksgiving comes before request in the above scripture.
2. Show readiness to submit to God's will:
While praying for some things you need to be ready to submit to God's own will should He decide it's not the right time to give you or do what you are praying for.
To chip in this point Jesus said 'your will be done on earth….' This goes to show that God expects us to first submit to His will before praying other prayer. So what does the Bible say?
Jeremiah 29:11 (KJV) 'For I know the thoughts that I think toward you, saith the LORD, thoughts of peace, and not of evil, to give you an expected end.'
3. Make your requests with faith:
Having given thanks to God and shown readiness to submit to God's will with regards to what you intend praying about, the next things is to make your request in faith.
It is very important to note that if we don't make our request in faith then there is no way God can grant such requests. See what the scripture said :
Mark 11:24 Therefore I say unto you, What things soever ye desire, when ye pray, BELIEVE that ye RECEIVE them, and ye shall HAVE them.
So the key to Having your Prayers Speedily Answered is to first of all believe.
4. Pray Without Sin
God has no relationship with sinners except to see them saved. Now, the Bible says that if we say we have no sin we are liars (See 1 John 1:8). In his wisdom therefore, Jesus thought us to pray for mercy always because he knows that humans are prone to sin.
If you don't pray for mercy during prayers, your request may be held up without answers as a result of your sins which you had committed either willingly or unknowingly.
5. Give Glory to God for Answered Prayers
In the closing lines of the LORD's prayer Jesus praised God, the father by saying 'for yours is the kingdom, the power and the glory.'
This is a sign of faith because it was said in the belief that the prayers have already been answered. The scripture said :
Hebrews 11:1 Now faith is the substance of things hoped for, the evidence of things not seen.
CONCLUSION
You have seen all we have in our list of 'keys to answered prayers' and it's our sincere hope that from today, all your prayers that are in line with God's will for your life shall be answered in Jesus name. Amen.