What must I do to be saved? "For the Son of Man came to seek and to save the lost – Luke 19:10, NIV". For one to be saved there are certain steps to take. God has already sent his only begotten son to come and save us from the hands of the evil one. – Salvation is found in no one else, for there is no other name under heaven given to mankind by which we must be saved – Acts 4:12. Jesus Christ is already our savior and whosoever believes in Him shall be saved.
Here are the solid steps to total salvation in Christ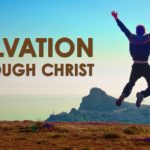 Hear the Word
And then faith comes by hearing and hearing by the word of God – Rom. 10:17. It is the word of God that helps build your faith in Christ and when your faith is built up then, your hope comes alive and that is where your journey to salvation starts.
You can't think of salvation without hearing the word, it is the word you've heard that will cause your inner man to thirst for salvation.
Believe
And He said to them, "Go into all the world and preach the gospel to every creature. He who believes and is baptized will be saved; but he who does not believe will be condemned" – Mark 16: 15 – 16.
Another important step to salvation is to believe in God. "If you confess that Jesus is Lord and believe that God raised him from death, you will be saved. For it is by our faith that we are put right with God; it is by our confession that we are saved" – Romans 10: 9-10
For if you believe in Him, you shall be saved.
Repent of your sins and shortcomings
Have you heard the word and believed it? Then you have to check your life to see if it pleases God: "I tell you, no; but unless you repent you will all likewise perish" – Luke 13: 3.
"So Christ was sacrificed once to take away the sins of many; and he will appear a second time, not to bear sin, but to bring salvation to those who are waiting for him" – Hebrews 9: 28
Confess your sins
 "..if you confess with your mouth the Lord Jesus and believe in your heart that God has raised Him from the dead, you will be saved. For with the heart one believes unto righteousness, and with the mouth confession is made unto salvation." Romans 10: 9 – 10.
Confessing your sins to God (even though he knows your heart) shows how remorseful you are as well as your willingness to turn away from them.
Be Baptized
Even Jesus Christ was baptized by John the Baptist at river Jordan before he was able to start his ministry and began the works of God fully. As a Christian, you need to be baptized to receive the gift of the Holy Spirit. "Repent, and let every one of you be baptized in the name of Jesus Christ for the remission of sins; and you shall receive the gift of the Holy Spirit." Acts 2:38
Have Faith and Live Faithfully
Jesus said – "Go, your faith has healed you." Immediately he received his sight and followed Jesus along the road.
Pray Always
Mark 14:38 – "Watch ye and pray, lest ye enter into temptation. The spirit truly is ready, but the flesh is weak." From the verse, we can see that prayer helps to secure our salvation in Christ, so we need to pray at all time to avoid temptations or other things that can prevent our salvation in Christ.
Be confident in Christ
Always be confident with yourself, don't allow other people to deceive you. Ask the Holy Spirit to lead, guide and help you in every of your life's endeavor.
What more?
I strongly believe that these 8 steps will help you follow Christ whole-heatedly, repent of your sins and walk with God in your daily living.
Also read these Bible verses, they'll help in building up your faith: Titus 3:5, Matthew 7:21, Acts 4:12, Psalms 37:39, John 3:16-18, John 3:17-21.
Kindly share this with your friends, colleagues, siblings and fans on social media. Thanks and remain blessed even as you have decided to walk with God for the rest of your life.