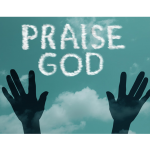 Often times we hear people talking about going to PRAYER MOUNTAIN but we don't hear people talking about PRAISE MOUNTAIN.
But the truth is God will respond more speedily to praises than prayers. Of course this is natural even with humans (As in you will be moved to respond to the praises of someone than the 'begging' of that person).
Some people have prayed and fasted for days yet they end up in frustration – that's when you hear statements like 'I don't know why God is treating me this way, are you sure God even exists?'
But you see, God is a God of principles and maybe such people should STOP praying and START praising. Someone may want to ask 'how do you expect me to sing praise when I'm in deep trouble?' but that's where FAITH comes in.
The Bible says 'Let the people PRAISE You O God and THEN shall the earth yield her increase and our God shall bless us.' (Psalm 67:5-6).
In other words God is saying "I WILL DO NOTHING UNTIL YOU PRAISE ME."
BIBLICAL PROOFS ON WHY YOU SHOULD PRAISE GOD
In Joshua chapter 6 we understand that the walls of Jericho fell down in the midst of praise and not prayer.
In 2 Chronicles 20:21-22 we understand that there was a demonic conspiracy against Israel by 3 giant nations but when they decided to drop their weapons to sing praise unto God, confusion broke out among the 3 nations and they began to destroy themselves and Israel did not have need to even shoot an arrow.
Ok someone will say that's old testament, but also in Acts 16:25-36 we saw that by reason of praise Paul and Silas went from being PRISONERS to CELEBRITIES.
However, We are not saying you shouldn't pray, Jesus said 'men ought to pray…' (Luke 18:1) but much more, men ought to praise..
Friends, it's time to start praising God, don't let the devil frustrate your prayers.
Your Turn
What's your own contribution to the reasons why believers must learn to praise more often, even at odd times or when in difficulties?  Share with us below by making use of the comments section.