Best Bible Apps for Android is one of the most searched term by believers around the world today. This is not unconnected with the spread of Android phone and tablets in this digital age.
We usually promote offline Bible apps for Android, iPad, iPhone and tablet devices. This is because using the internet-only ones could bring about distractions in forms of ads and several needless notifications.
Installing a robust Bible application should be one of the foremost steps to complete for every smart device and/or personal digital assistance in your possession as a believing Christian.
This is our reason for coming up with this post on top 6 Best Bible Apps for Android phone and tablet devices.
The List
In this recent time – nicknamed "Digital Generation" every thing has gone digital via robust technological innovation.
It will be wise for every believer to leverage on this by equipping their devices with Godly apps that would get them connected to grace and the heaven-lies, every hour of the day.
Hence, this list on the top 8 Best Bible Apps that works seamlessly on smart phones and tablet devices.
1. KJV – King James Version (Offline Bible App)

Developer – Right
Download link – google playstore
King James Version of the Bible is of no doubt the most read Bible version worldwide. Top android app developers code-name " Right" came up with its mobile App to ease the stress of walking about with a big Book cover Bible.
With the KJV Offline Bible App on your device, you can easily read and share- Bible quotes, Bible verses and Bible references with friends and colleagues.
KJV Offline Bible app for android comes with a comprehensive search function that lets you find a forgotten verse by searching with any part of the phrase you could remember. You can set your preferences (large fonts, small fonts, color and etc.) easily via the app settings window.
It also features an audio reader that helps you read out the verses audibly. This function is extremely useful for quite time and personal morning devotions.
Features in-Full:
Offline Bible
Book/Chapter/Verse locate
Bookmark
Share
Search
Online Search Engine like search ability
Auto start
3 yrs daily Bible reading plan
Favorite
Red Letter
Speaking/Reading
user-friendly navigation and verse locating
This App can also be downloaded from the developer's website guanyc.com/android-apps.
2. Life.Church Bible App (YouVersion Bible)
The reviews by readers of nairaland prompted us to add this app to the list. It is really an amazing Bible application for church use.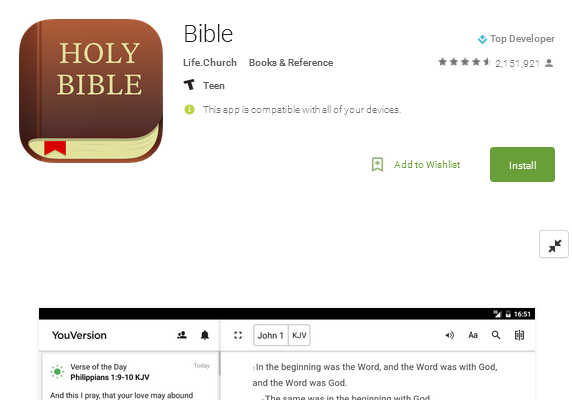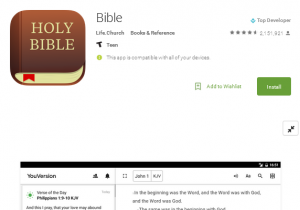 It gives you access to daily Bible verses, hundreds of daily devotionals to choose from, and supports all major World's languages (about a thousand versions and languages to choose from).
Most Nigerians languages (Igbo, Yoruba and Hausa) are boldly supported by the YouVersion Bible app developed by life.church team.
The app lets you bookmark and add notes to either specific Bible passages or topics, which are saved online in case of theft or device's damage.
It also has support for all major platform including smart phones, tablets, Web app, PC and Mac devices. You can simply tag it a complete Bible app for modern worshipers.
Features:
Switch between 1,400+ Bible versions and 1,000+ languages.
Supports all popular Bible versions: King James Version KJV, New International Version NIV, New King James Version NKJV, New Living Translation NLT, English Standard Version ESV, NASB, The Message, Yoruba, Zulu, Hindi, French, Chinese and etc.
Comes with fully offline and audio versions.
Verse of the day and yearly Bible reading plan.
Comes with custom option that lets customize your Bible reading experience to taste.
Downloading: The YouVersion Bible app is available FREE for Android, iPad, iPhone, Laptops and Mac Devices. You can download a version of choice by visiting their download page here or by using the app store link for any version of choice.
3. Holy Bible – NIV
Developer – Kevoya
Download link – google playstore
The NIV Holy Bible app lets you bookmark, share and zoom in/out font sizes. With the help of reminders and notifications you are sure to learn and read at least one verse of the scripture daily, as this keeps you connected with God always.
Not yet enough? with this App you can share bible verses to/with other believers or Christians and in all social media platforms.
Features:
NIV Bible works without internet connection
share bible verses
no personal data collected
very small APK file (4mb)
Both Old and New Testament included
New International Translation, NIV bible, other translations available on click "More Applications".
Danny Scot is reading….: 9 Tips to Help you Overcome Temptation as a Believer
4. Holy Bible – KJV
Developer – Solvus App
Download link – google playstore
The King James Version of the Holy Bible is the most popular and most read version of Holy Bible. Having the mobile App on your smart device gives you quick access to the scriptures at any point and at any place.
Features:
4 MB installation size
Offline Bible version.
Daily and nightly mode for reading
Adjust the text/font size
Search verse by word or phrase using "quoted text"
Bookmark favorite verses
Mark favorite verses with specific color and add notes
5. The Message Bible

Developer – PeterTechApp
Download link – google playstore
This free android app lets you read completely The Message Bible. It also offers the complete audio version of The Message Bible with words from The Bible in Contemporary Language.
You can also Read, listen or even watch the scriptures with this free app.
Features:
Daily devotional scriptures
Audio version of the Holy Bible
Daily social media scripture updates
Both Old and New testament inclusive
6. Amplified Holy Bible – AMP

Developer – Holy Bible
Download link – google playstore
The Amplified Bible version is famous for using simpler English terms and at such appreciated by the aged.
The Amplified Bible of 2015 includes more amplification in the Old Testament and refined amplification in the New Testament. Additionally, the Bible text has been improved to read smoothly with or without amplifications, so that the text may be read either way.
Features:
Daily Inspirational Bible quotes
Daily devotional scriptures
Both Old and New Testament included
Audio Biblical Message
Bible Study tool
7. ESV Bible

Developer – Crossway
Download link – google playstore
Just like the other Bible Apps listed above, the ESV Holy Bible app comes with so many flexible features and it is a much more light-weighted app.
Features:
Free.
No internet connection needed
Offers a fantastic user experience.
Finding a verse is fast and easy.
Jump from a cross-reference or footnote back to your passage with seamless fluidity.
Read and Scroll through the entire Bible in landscape or full screen modes
Enlarge or shrink font sizes to fit your needs.
In Summary:
These 7 Bible applications are one of the best Bible apps in Google play store. They feature offline functions and works flawlessly on low-end devices.
There other great Offline Bible and Bible study applications such as MySword Bible that features many versions in one as well as Bible study functions, concordance and commentaries.
We will be covering that in future articles but would like you to suggest other good Bible apps you have had a wonderful experience with.